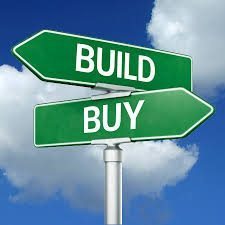 So you have decided a new home is in your future and you want to know if you should buy an existing home or design and build a new home. The answer to that question depends on the prevailing real estate market, your objectives, how much you want to spend, how much money you have to put down and the kind of financing you need. In this series "Buy or Build", we will explore the dynamics of buying versus building. To get started, let's talk about Market Trends.
The first step is to educate yourself on the dynamics of buying versus building. In a growth real estate market, the differences between buying and building may be slight. While in a declining or even in a stable real estate market, the cost to build will likely be more than the cost to buy a comparable home. This is not to suggest you should buy rather than build. Just understand you will likely have a larger investment requirement should you decide to build. The good news is with a design/build approach…..you will get exactly what you want because it is custom designed specifically to your design requirements.
The second step is to find a competent Realtor and Builder that can provide you with the information you need to make an informed decision. In a perfect world, if you can find a person or company that offers both real estate services and design/build services all under one roof, you are more likely to receive an unbiased view of the dynamics of buying versus building. Either way, do your homework and get the facts before diving in and deciding which is best for you.
Market Trends
The current market of new home buyers typically fall into one of three categories. The first and largest category are those buyers that are taking advantage of low cost and low interest rates. The largest segment of these buyers are those purchasing homes for under $150,000. The inventory of these low cost, high value homes is abundant and thus the large number of folks rushing to buy in this category. This dynamic has created a double edged sword when it comes to financing however. With lenders focused on the volume of loan applications for low dollar loans, a paradox has emerged with buyers that want more and need to borrow more money. Many lenders are even considering a loan in excess of $300,000 to be a high risk. With that said, there are alternative solutions and getting the right loan for you is always easier when you have an advocate on your side.
So What Is A Buyer To Do?
The best thing you can do when faced with a new challenge is find someone that knows more about the ins and outs than you do to guide you through the process and help you avoid the pitfalls you are likely to encounter. As it pertains to finding or building a new home, getting it financed and helping you stay sane through the process, you might want to consider calling the professionals at Modern Rustic Homes. They have been through this many times and are uniquely equipped to walk you through the buy versus build options as well as connect you with the right lender that best meets your specific loan requirements. They even have a "New Home Concierge" who is responsible for helping through the process.
To learn more, here are a few links that may be helpful:
Read About Modern Rustic Homes in Log Home Living Magazine