It's all about the lifestyle…
Respectful of our few competitors, and with roots that began over 40 years ago, we stand tall in our ability to provide a high level of service. Under one roof, we offer complete custom design with an award winning architectural designer, stellar construction and craftsmanship by our in-house general contractor, resulting in a completed ready-to-move-in home. One more thing. We also provide you with a personal concierge who will walk you through the decision processes of building your custom home.
Our Portfolio contains award winning architectural design & build projects.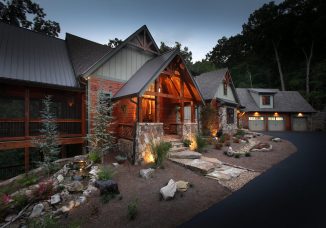 Any team, be it a company, a sports team, or an ad-hock volunteer committee, is always made better by having a clear vision. Such is true when we come together to design and build your home. We, that is, you the client and the Modern Rustic Homes members, are the team. This process is about you — not about us. Your vision and your lifestyle are the driving force behind the process to produce a result that is beautiful, well crafted and a joy to live in. It is always our intention to partner with you to make this experience a pleasant and enjoyable one.
At Modern Rustic Homes we help you realize
the dream of owning an exceptional home