Where else but in America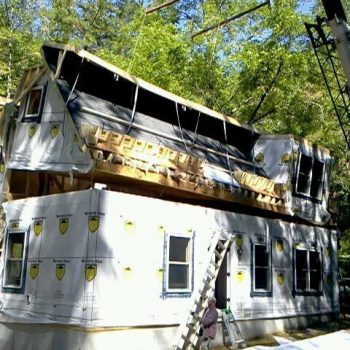 Saturday morning I watched four "boxes", which are what we call systems built housing modules roll into Gilmer County on specially designed flat -bed carriers. Waiting at the job site was a 90 ton crane positioned in place to pick up each box to sit it on the foundation we prepared two weeks before. Prior to this day, we spent many hours with our customer to design, and then specify finishes and fixtures for an 1800 square foot cabin in the woods. With two bedrooms, 2 ½ baths, loft space, laundry room, pantry, large kitchen, vaulted ceilings and an open plan design, this cabin is exactly what the clients wanted. The boxes took eight days of production time to manufacture in our Nationwide Custom Homes Plant in Martinsville, Virginia.
The cabin is called "Mountain Cove", respecting the natural setting surrounding it. By 9:30 a.m. the first box was prepped to be picked up by the crane and positioned onto the foundation. Fast forward four hours and all four boxes are now assembled.
My clients and I walked through the cabin to check it out. What we saw were floors that were level (I mean level, not just sort'a level), plumb walls, square corners, drywall in place, cabinets, bath fixtures, lighting, electrical, plumbing, duct work, all were where they needed to be. Behind the drywall and paneling was spray foam insulation to provide high performance energy efficiency. Needless to say, I also saw a lot of smiles and nods of approval.
Over the next 30 days we added the porches, completed the exterior siding, and mended the mating walls. The painting has just been finished and the result is terrific.
This is America at its best, figuring out a way to do something better and doing it. It is our mission at www.modernrustichomes.com to provide a better solution for our clients. Allow us to show you what we can do that is a better solution for your housing needs.
Michael Grant